After riding a a fixie (a Redline 925, more about that later) for a couple of years, I was really ready for a road bike.
I'd been hanging around Citizen Chain in North Beach for a while, staring longingly at the frames hanging from the ceiling and making small sighing noises under my breath. It was getting to the point where, if I didn't actually buckle down and do something about it, Dallas was going to have to start banning me from the shop so... I walked in one afternoon and, after weighing (literally) a few options, bought myself a frame.
Given my history, it had to be Italian, of course. The one I ended up purchasing was by Faggin (pronounced "Fa-zheen") of Padova. It's made of Columbus SLX tubing (as engraved on the seat post lug) and appears to be about 20 years old, and in REALLY good shape. Unfortunately, I didn't take a "before" picture but, as you can see in the buildout picture below, it looks pretty good with the old decals stripped off.
.
It is exactly the same red that they used to paint Alfa Romeos of the same vintage - a fiendish shade that lies somewhere between blood and nail varnish.
A word or two here on Citizen Chain. I can't praise these guys highly enough. After I bought the frame, I spent a few days poking around looking for parts, some of which I got at Box Dog over in the Mission, and then went back to the shop, parts and cleaned-up frame in hand, ready to build. They could clearly see the fever in my eyes and Sasha told me to come back at 7 that evening when he'd have time to work on it.
What ensued was a beer-tinged, grease-stained, 4-hour wrench-fest during which Dallas retreated to his loft, opened his vast store of vintage parts and tossed down assorted zip-lock bags full of treasure, which Sasha then attempted to attach to my bike with varying degrees of success, while I stood by and kibitzed to the best of my ability.
What we ended up with was pretty sweet.
Campy cranks and front DR
Campy rear DR and 9-speed cassette
(Very) old-school Campy down-tube shifters
Also Campy Centaur brakes, Mavic Aksium Race wheels, Nitto stem and bars, Chris King 2-Nut headset, Thomson seat post.
And... to hammer home the point, the saddle, by Selle, reads, "Italia Invincibile."
Invincibile
I've been riding like a maniac for the last few weeks and working the kinks out. Below there's a pic of my baby resting on the stand in my little rooftop shop. Note that I replaced the drop bars in the original build with the bullhorns I had on my fixie.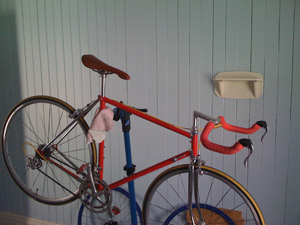 The Citizen Chain web site - have I mentioned how great I think these guys are? - features a manifesto about Herman Mankiewicz, Rosebud and how bikes are our trusted companions (see "Rosebud was a bike!"). This is a great bundle of metaphors and comes close to the matter but from a Buddhist perspective it doesn't go far enough. A Tang Dynasty master, if one had the opportunity to present the case to him (or her) would say without hesitation that the bike is the body of the Buddha and the mind of the bike is the Timeless Mind of the Ancient Buddhas. From a purely experiential perspective, everyone knows exactly what this means. When we're really deep into a ride, there's no boundary between the body, the mind and the bike (and, for that matter, the road and the wind and the wild turkeys having breakfast in the margins and so on). There's no mind and nothing outside of mind - just the constant arising of this life and its expression in an ecstasy of forward motion.
'nuff said!
The Redline 925 gets a makeover.

So I mentioned that for the last couple of years or so I've been riding a Redline 925 set up as a fixed-gear. By this time I'd replaced the bars with Nitto 021 bullhorns to get a little more drop and removed the rear brake.
As you should be able to tell from reading the relevant online fora, the 925 is a pretty nice bike. The frame isn't as light as my Faggin, but what do you expect? It still feels great to ride and, in particular, completely delivers, even in its stock form, on the "fixie experience." It's hard to know exactly what this is, of course, and I'm sure everyone has their own perspective but I'll give you mine. First and foremost, when you're riding a fixed-gear bike, you're always riding the bike. There's no coasting and, especially after you start removing the braking hardware, you pretty much have to pay constant attention. Second, there's something inherently calm about the underlying technology. Chris Alexander - the pattern language guy - recognizes that when we inhabit spaces and by extension use things that make us aware of the forces at play and help them work in harmony, we feel deeply alive. He even goes so far as to designate such spaces as alive themselves. Bikes are like this and fixed-gear bikes, in their quiet simplicity, are especially so.
And, it almost goes without saying that they are and should be beautiful. I had been yearning since the day I bought my Redline - again, at the completely excellent Citizen Chain - to make it my own and now that I had another bike that I enjoyed riding, I thought I'd take my shot. First, I stripped the frame and sent it out to be powder coated. Dallas has a guy in San Jose lined up that does a really good job for a reasonable price. While I was waiting for it to come back in its new creamy-smooth form I browsed around online for components.
Here's how it worked out...
Sugino cranks and chainring
Sugino fixie cog set (18t shown)
Chris King headset, Ritchie stem and Soma Major Taylor Bars
... and here's the whole thing.
The wheels are Weinmann rims with Origin8 hubs.
Calm...
October 18, 2009 was the Nike Women's Marathon here in San Francisco and on that morning, as on most weekend mornings, I got up early and went out for a ride. Shortly thereafter, I was sailing down the Embarcadero in the pre-dawn light. The organizers of the event had set up a steel barrier across the Embarcadero at Broadway in order to keep cars (and, I suppose, bicycles) from interfering with the runners and I first glimpsed it as I entered the intersection going about as fast as I am capable of going on the flat.
As it turns out, the paramedics and hospital staff have a term of art that applies to what happened next. I hit the brakes and "Supermanned" over the bars. There was a long, slow moment during when my hurtling body did a full prostration in the air and then I hit the barrier with my head and shoulder, crashed through it and came to rest on my back. My bike bounced along for another 20 feet or so and came down relatively unscathed. I, on the other hand, broke the scaphoid bone in my wrist and separated my shoulder.
The first 3 minutes were pretty dismal. I was in really excruciating pain and my vision was all blurry and flashy. To make matters worse the officer who should have been there warning me off, strolled up and had the nerve to ask, "Didn't you see the barrier?" After that things improved steadily. A woman, who happened to be a nurse, stooped over me briefly and reminded me to breath. A gospel choir, presumably there to encourage the runners, struck up some song about "Victory". Soon the paramedics showed up in a fire truck and - wonder of wonders - my friend Stan, who just happened to be out on his morning run, stumbled upon the scene. He took care my bike and of getting in touch with Marsha for me. Next stop was SF General where I got to watch their world-class ER staff do their job. Marsha showed up. Yun-Men said it, "Every day is a good day."
What was clear, though, is that I wouldn't be riding my bike for a while. Fortunately for me, I already had a project to tide me over. Around this same time I was standing around Citizen Chain (hereinafter referred to as "The Shop") and Dallas put an old Miyata track frame in my hands. On the spot I knew I had to have it and knew with equal certainty that it would be a replacement for the Redline frame at the heart of my fixed-gear bike.
So, during the weeks of my convalescence, I sent the frame out to be powder-coated - a matte-finish pearl white that has the texture of old vellum - and set about acquiring the additional components I'd need to build it up. When I got them, I'd do my level best to put them on using my single available opposable thumb or else go down to The Shop for additional thumbs. They were, of course, endlessly helpful.
Here's how it ended up. Some of these components are the same as my previous machine. A few, like the seat post (Thompson) and the stem (Nitto) are new.
The only piece of branding left on the bike when it was done being stripped and coated was a faint Miyata logotype on the fork crown.
This seemed a shame. Furthermore, the bike came to me with a "brand" of its own. In a previous life someone had put a sticker of a shark on the head tube and Will from The Shop had dubbed it "The Tiger Shark". I decided to run with this and, as The Shop had recently acquired a decal printer, sent them: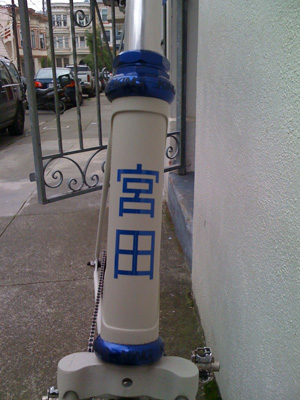 the Kanji for "Miyata", gotten off a company anniversary poster I found online, done as a head-tube badge,
and the Kana for "Tiger Shark" for the seat tube.
Plus, Nico found a really great-looking shark silhouette and we stuck it on the top tube up front, as follows:
The decals are in this lovely reflective vinyl that lights up like a UFO in any sort of direct light - especially automobile headlamps.
So now I have my very own one-of-a-kind Miyata Tiger Shark branded in Japanese. And, even better, I got my cast off a couple of weeks ago so I can ride it. The frame is a lot thinner than the Redline and feels light and quick under my hands. It wants to go faster than I'm currently ready for but seems willing to wait.